You can donate hearing aids to various foundations listed below. They will take care of them and reprogram the hearing aids so a person in need gets help. Hearing aids do not need to be new. The foundations will also use used hearing aids and simply refurbish them.
You can directly click the links to get to the websites of the foundations or send the hearing aids to one of the postal addresses listed below. There are also institutions near you where you oftentimes can donate old hearing aids and they will send them to a foundation. Those institutions are listed in the paragraphs below too.
Starkey Hearing Foundation "Hear Now"
Hearing Loss Association of America
As you can see there are a lot of foundations where you could donate your hearing aids. In the following paragraphs, you can get a short piece of information about the foundation and its postal address.
Starkey Hearing Foundation "Hear Now"
Starkey is one of the biggest hearing aid manufacturers. They also care about hearing loss after they sold hearing aids. This is why they help to recycle hearing aids to people in need. You simply need to fill out this form and send the hearing aids padded in a box or padded envelope to the hear now foundation. (The link is a download link for a pdf)
Recycled Hearing Aids
c/o Starkey
6425 Flying Cloud Drive
Eden Prairie, MN 55344
Local Lions Club
Local lions clubs are nonprofits and you can donate hearing aids there. They will then run through a recycling program to fit somebody in need with a hearing loss. You probably have a lions club near you where you could donate your hearing aids. there are 45,000 clubs in 202 countries and geographical areas around the world.
Find a local lions club near you with this link.
Hearing Charities of America
This organization has the goal to make hearing aids available to those who might otherwise go without them. When you want to have a closer look at where the hearing aids will be available to those in need you can have a closer look at this link here. If you want to donate your hearing aids just pack them with all the accessories and send them to:
Hearing Charities of America
1912 East Meyer Blvd.
Kansas City, MO 64132
816-895-2410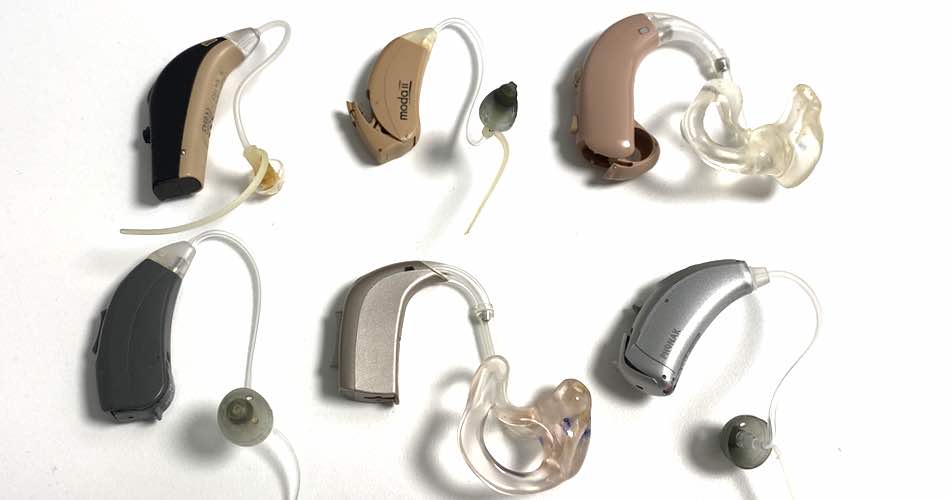 Audicus Hearing Aid Donations
Audicus partnered up with the hearing charities of America to accept hearing aid donations. They accept all hearing aids no matter how old they are or what brand you may want to donate.
Audicus Hearing Aid Donations
11 Broadway, 20th Floor
New York, NY 10004
Hearing Loss Association of America
The Hearing Loss Association of America also partnered up with other organizations to refurbish hearing aids and give them to those in need. They are also a part of the hearing aid project and all you need to do if you want to donate your old devices is to:
VIsit the Website of the Hearing aid Project.
Fill in the form with your adress and how many hearing aids you want to donate.
Then you can print out the information and send them to the following adress.
912 East Meyer Blvd., Kansas City, MO 64132
Flying Samaritans
This foundation also collects Hearing aids for patients in Mexico. They will be fitted to children and adults. Some of them can finally hear for the first time. You can email them about the hearing aids you have, and they`ll contact you. flyingsams@yahoo.com
Donate Hearing Aids to Veterans
You can make hearing aids more easily accessible to veterans by donating them. The VA provides audiologist diagnostics to veterans enrolled in the health care system. Just contact the VA to see if they accept hearing aid donations.
What to Do With Hearing Aids When Someone Dies?
To recycle old hearing aids, put them in an appropriate shipping container (box or padded envelope are recommended), and mail them to a foundation like "Hear Now" from Starkey. Alternatively, you can also ask your local community if one of the following places to go accepts your donation. The following oftentimes do:
Can Digital Hearing Aids Be Recycled?
Hearing aids can be recycled and used again when donated. Most of the hearing aids available are built so a small defect like a broken loudspeaker in the ear can be repaired easily. The hearing care professional just needs to swap out the old loudspeaker/receiver for a new one and the hearing aid can be used again. The same is true for adjustments.
Hearing aids are little computers and can be easily be reprogrammed to new amplification levels to compensate for the hearing loss from another person.
How Do You Dispose of Old Hearing Aids?
Do not dispose of hearing aids in the trash bin. Oftentimes they can be reprogrammed to another person's hearing loss. Even though when the devices are not functioning correctly a hearing care professional can in many cases swap out a component and reuse them for someone in need. And for this person, a new hearing aid could be a huge difference so do not throw them away.
Here you have a lot of options where to donate old hearing aids. Those collection centers are very important and most communities have one. When you do not have one in yours maybe you are interested in accepting the donations and then sending them to an organization like the Hearing Aid Project. You can contact them here if you want to help others by accepting hearing aid donations.